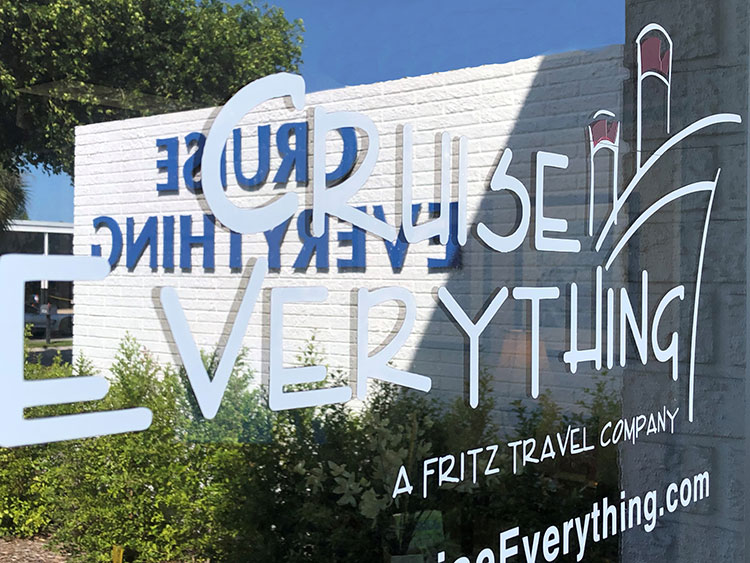 The Cruise Everything Story
Located in Fort Myers, Florida, Fritz Travel, Inc. was founded by Bettye and David Fritz in 1992. Our business name is Cruise Everything to reflect our commitment to producing every aspect of a cruise.
Cruise Everything specializes in:
Individuals, Weddings and Honeymoons at sea, Anniversary Cruises, Class and Family Reunions, Fund Raisers, Company Incentives, Family Cruises, and all groups from 15 to 3000+ people.
Here are just a few of the destinations Cruise Everything can take you to:
Caribbean, Alaska, Europe, South America, Bermuda, South Pacific, New England and Canada, Asia, River Cruises, Antarctica, Galapagos Islands and World Cruises up to 180 days!
We work with the finest cruise lines in the world. And since cruises are 100% of our business, these cruise lines offer us the best deals in the industry: Regent Seven Seas Cruise, Seabourn Cruise Line, Silversea Cruises, Oceania Cruises, Celebrity Cruises, Holland America Line, Royal Caribbean International, Norwegian Cruise Line, Disney Cruise Line, AMA Waterways, American Cruise Line, American Queen Voyages, Tauck River Cruises, Uniworld Boutique River Cruises, Viking Cruises and many more.
A strong component in any business decision is the reputation, experiences and commitment of the company you select. We have earned an A+ rating at the Better Business Bureau and have been accredited since 2000.
Cruise Everything is one of the oldest cruise agencies in the world. Cruise Everything was started by Bettye and David Fritz in 1992 as the first cruise only travel company in Southwest Florida. Our company specializes exclusively in cruise vacation travel. We are now one of the largest organizations in the world devoted solely to cruise travel.
Cruise Everything is a proud member of the prestigious "Signature Travel Network." (Established in 2004). Signature is one of the most respected luxury travel consortiums in the world and Cruise Everything was the first agency in Florida to be invited to join them in 2004. Signature Travel Network was established in 1956, and today, includes over 300 member agencies with over 600 retail locations in the United States, Canada, Brazil, Australia, New Zealand, Mexico and the Caribbean. Collectively, Signature members generate more than $8 billion in annual travel sales.
Who is Cruise Everything?
Cruise Everything is owned and operated by David Fritz, President of Fritz Travel, Inc. Unlike many national companies that have numerous offices throughout the country, when you deal with Cruise Everything, an owner is always on site to assist in your needs. You don't have to climb through "layers" of management to get results or have your special requests acknowledged. We have a vested interest in assuring our guests that they are sailing on the right ship meeting their needs and expectations. It is this type of concern and caring that has helped us win "national account" status with so many cruise lines.
Cruise Everything has unbeatable buying power which means the best price for our clients.
Cruise Everything requires extensive training so that each counselor has professional knowledge of the cruise industry and the ships we sell. This comprehensive, intensive training is not available to conventional travel agents or tour companies.
We limit our focus to cruises. We do not represent ourselves to be experts in air, rental cars, or trips to Las Vegas. This allows us to excel when it comes to cruises.
Our staff knows all the major cruise lines and ships within each fleet. They focus on understanding their clients' needs and matching them with the right ship.
Within our organization in Fort Myers, we have personal experience with more than 100+ cruise ships.
This means our staff can answer your questions and concerns based upon personal knowledge. In addition, we have the experience to handle special needs, questions, and details that a novice or inexperienced cruiser may ask.